Diese Veranstaltung hat bereits stattgefunden.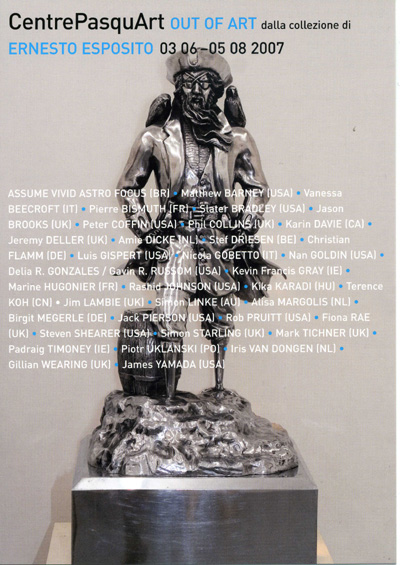 OUT OF ART dalla collezione di Ernesto Esposito
3 juin 2007

–

5 août 2007
03.06.2007 – 05.08.2007
OUT OF ARTdalla collezione di Ernesto Esposito
Dans la série des expositions de collections privées au CentrePasquArt, les regards se dirigent cette année vers l'Italie. Depuis plus de trente ans, Ernesto Esposito styliste de renommée internationale collectionne avec passion et un esprit visionnaire des oeuvres d'artistes contemporains qui sont devenus aujourd'hui des figures majeures de la scène artistique. L'exposition propose une sélection d'artistes déjà reconnus et de jeunes talents à découvrir : Matthew Barney, Pierre Bismuth, Nan Goldin côtoient Jim Lambie, Peter Coffin, Fiona Rae ou Jeremy Deller, entre autres, dans un accrochage thématique qui s'étend de l'enfilade des salles du Parkett 2 à la « Piazza » (Salle Poma), autour de la fontaine de Rob Pruitt.
ASSUME VIVID ASTRO FOCUS (BR) – Matthew BARNEY (USA) – Vanessa BEECROFT (IT) – Pierre BISMUTH (FR) – Slater BRADLEY (USA) – Jason BROOKS (UK) – Peter COFFIN (USA) – Phil COLLINS (UK) – Karin DAVIE (CA) – Jeremy DELLER (UK) – Amie DICKE (NL) – Stef DRIESEN (BE) – Christian FLAMM (DE) – Luis GISPERT (USA) – Nicola GOBETTO (IT) – Nan GOLDIN (USA) – Delia R. GONZALES / Gavin R. RUSSOM (USA) – Kevin Francis GRAY (IE) – Marine HUGONIER (FR) – Rashid JOHNSON (USA) – Kika KARADI (HU) – Terence KOH (CN) – Jim LAMBIE (UK) – Simon LINKE (AU) – Alisa MARGOLIS (NL) – Birgit MEGERLE (DE) – Jack PIERSON (USA) – Rob PRUITT (USA) – Fiona RAE (UK) – Steven SHEARER (USA) – Simon STARLING (UK) – Mark TICHNER (UK) – Padraig TIMONEY (IE) – Piotr UKLANSKI (PO) – Iris VAN DONGEN (NL) – Gillian WEARING (UK) – James YAMADA (USA)