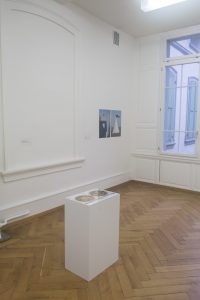 Sammlungsraum / Salle de collection
Foto / Photo: Julie Lovens
The Collection
The collection currently contains more than 1'800 works from over 130 artists. These include:
Internationally known names such as Joseph Beuys, Martin Disler, Rebecca Horn, Fischli/Weiss and Markus Raetz.
Important national representations such as Heinz Brand, Marie José Burki, Miriam Cahn, Mariann Grunder, Gian Pedretti, Claude Sandoz and Uwe Wittwer, as well as a large number of regional artists.
There are several large groups of works by the painter and draughtsman Bruno Meier (CH, 1905-1967) and the graphic works of the artist Heinz-Peter Kohler (Biel) and Martin Ziegelmüller (Vinelz, BE)
A selection from the Kunsthaus Collection can be accessed here: