Events Listen Navigation
January 2019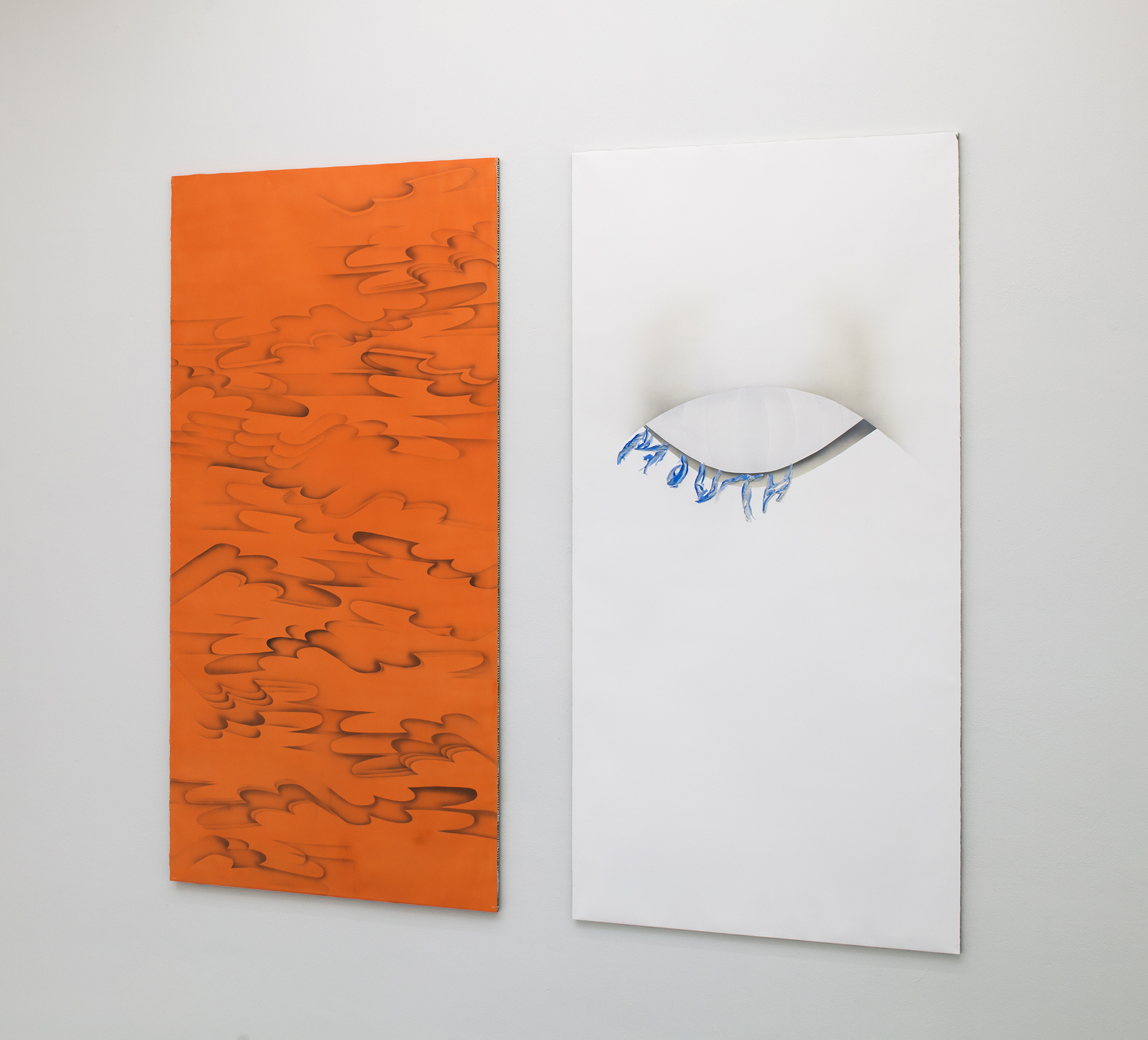 Maija Luutonen's (b. 1978, FI) large-scale, vividly coloured paintings are made primarily on paper, chosen for its suitability for direct experimentation as well as for the immaterial nature of the white 'negative' spaces created on its surface. Considering the material to have a transient quality, she addresses the relation between time and movement, treating the works as an ensemble of slowly moving images rather than complete or final objects. This open-endedness is underlined by the presentation of the work leant against the wall, piled up, folded or placed in front of a door or window. Bringing together colour and light with references to the built environment and nature, Luutonen explores the possibilities for creating the illusion of spatial immersion on a flat surface. She retains in the paintings elements that are awkward or unresolved but nonetheless interesting and dynamic.
Weiterlesen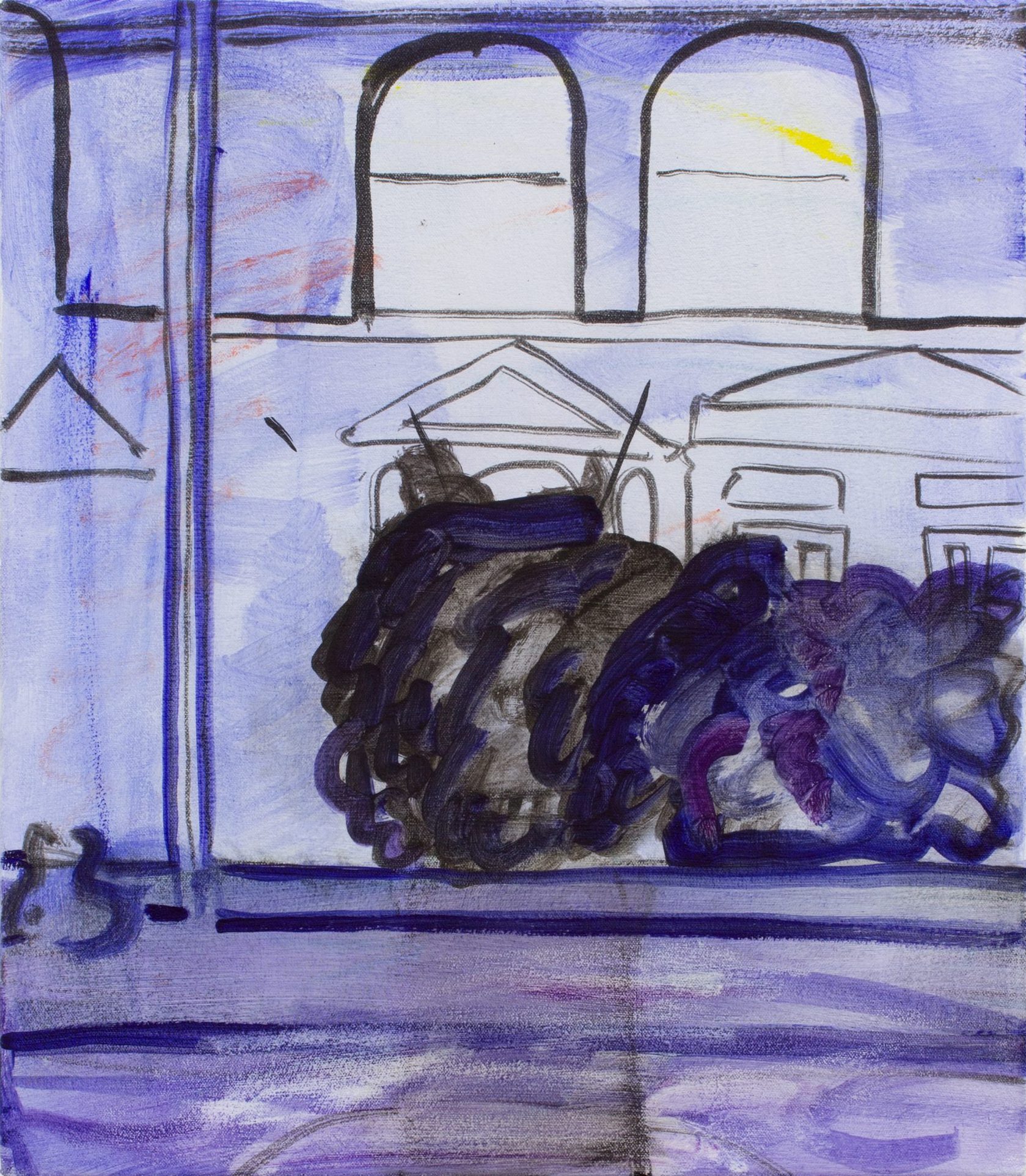 Zara Idelson's (b. 1987, CH) approach to painting is based on intuition and direct observation as well as a clear set of parameters consisting of small-scale works and a limited palette. Texture is created through thin layers of paint, vital with brushwork over bare priming, where colour is used less to depict than to create a sense of movement. The exhibition focuses on the series of figurative paintings begun in 2017, when the artist moved to London, and reflect her curiosity for her new surroundings. Employing line drawing and intimations of detail, Idelson depicts the places and incidents she comes across in her everyday life, such as the back of a public building seen from a cycle path, underground station entrances and children's chalk drawings on pavements. Dusky scenes of the city at night are quietly atmospheric, while a preoccupation with framing devices is evident in the frequent depiction of views from windows. Ultimately, however, these images are an exploration of the medium of painting itself.
Weiterlesen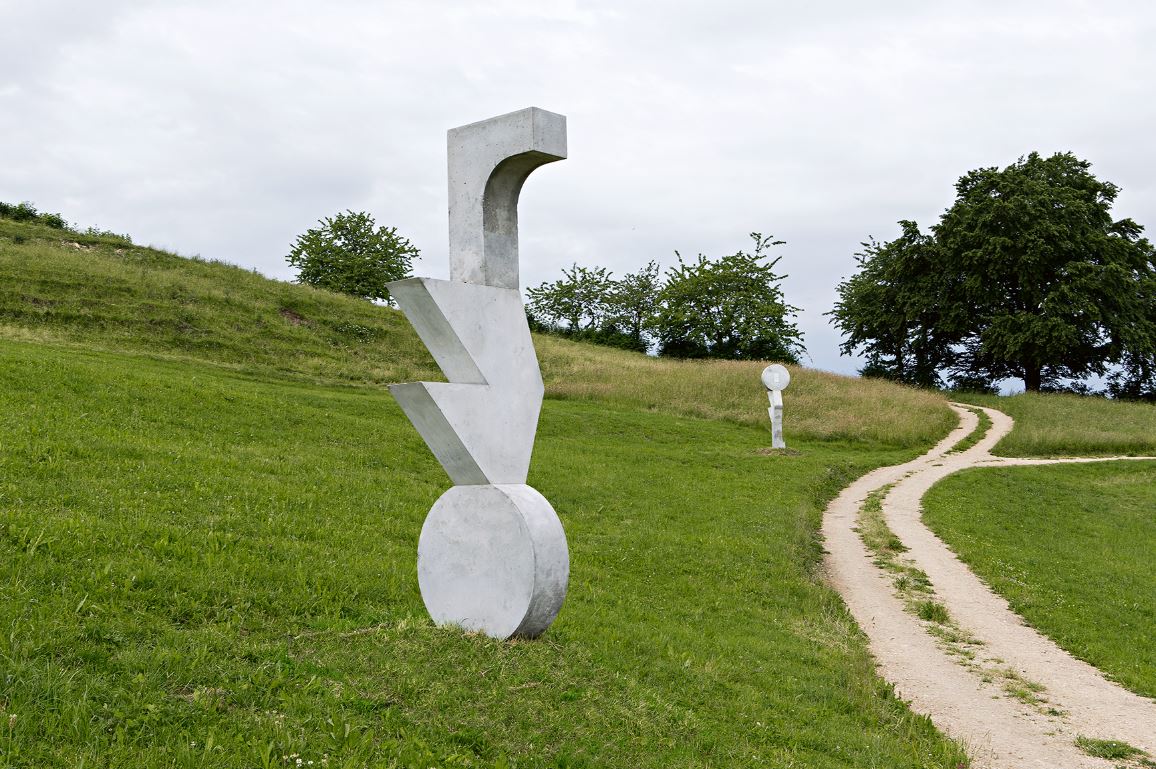 Florian Graf (b. 1980, CH) examines in his work themes connected with architecture and landscape architecture and thus investigates the psychological and emotional impact of spaces. Via sculpture, installation, drawing, video or photography he creates moments of poetic density, in which the borders between reality and imagination are dissolved. In the garden of the Kunsthaus Florian Graf has installed three concrete sculptures, each constructed from three very different basic forms. A circle, an L-form and a jagged figure also function as the building blocks of ceramic models, a photographic work and a series of drawings. Applied in a variety of ways, these structures differ from each other in terms of their composition, size and placement and make reference to the artist's considerations of new modular social structures. Finally, he has connected these three forms to create large-scale sculptures in aluminium, staging these spectacularly in the monumental Salle Poma. The further exhibition spaces are transformed by the artist into a living situation, in which his seemingly documentary films are presented alongside the other works. In these Graf plays his alter ego, the action artist Graphenheim, thereby parodying himself. Between conceptual logic, visionary power and subtle humour, Florian Graf examines the appropriation of bodies, role models and living spaces, creating a lively construct from imagination, materiality and temporality.
Weiterlesen
+ Export Events