Diese Veranstaltung hat bereits stattgefunden.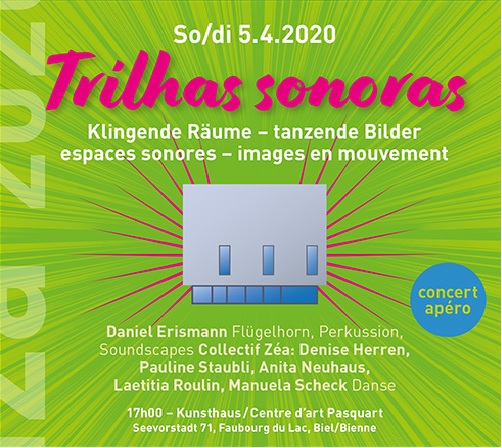 CANCELLED: Trilhas sonoras
5 April, 17:00

–

18:00

|

CHF35
This event has been cancelled. Thank you for your understanding.
Trilhas sonoras
Sounding spaces – moving images
Concert apéro
CADENZA – Concert cycle by music school Biel
Daniel Erismann (conception, flugelhorn, percussion, soundscapes), Collectif Zéa: Denise Herren, Anita Neuhaus, Laetitia Roulin, Manuela Scheck, Pauline Staubli (choreography, dance)
The Collectif Zéa and the musician Daniel Erismann accompany the audience through the spaces of the Kunsthaus.