Diese Veranstaltung hat bereits stattgefunden.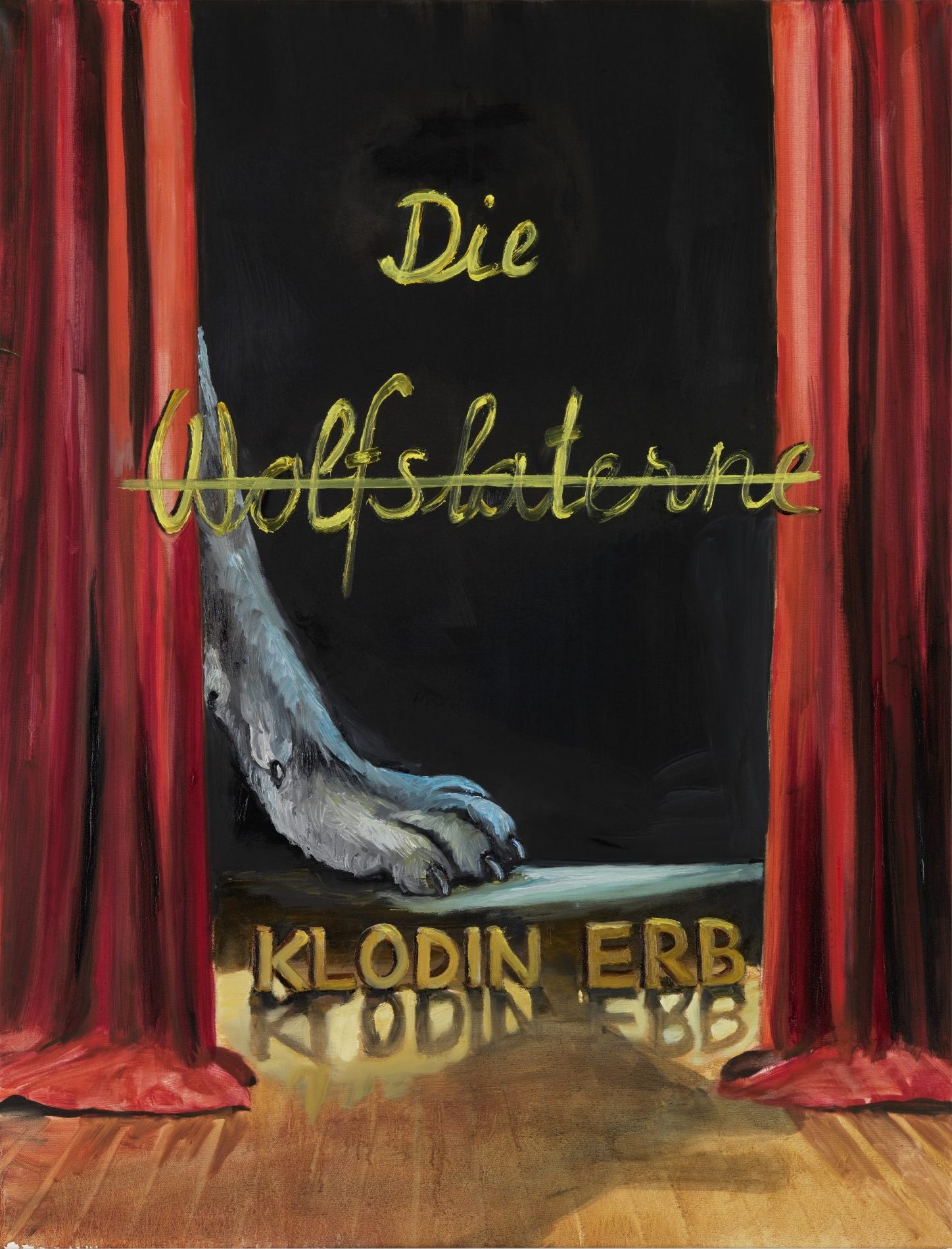 KLODIN ERB
28 January 2018

–

1 April 2018
Klodin Erb, Die Wolfslaterne, 2017, Öl auf Leinwand / huile sur toile, Detail / détail, 130 x 100 cm; Courtesy: Lullin + Ferrari, Zürich; Foto / Photo: Stefan Altenburger
KLODIN ERB
Die Wolfslaterne
28.1.-1.4.2018
Known for her expressive, fantastical visual worlds, Klodin Erb (b. 1963, Switzerland) plumbs the limits of painting and simultaneously questions definitions of gender and identity. The alienation of images from their original contexts and playful interpretations of classical genres, styles and motifs characterise her gestural figurative works. These are mostly produced in series. In her attempts to connect topicality with timelessness in her paintings, Erb borrows from art history and samples motifs from the contemporary world, using various techniques. She places less emphasis here on representation as on the process of painting, which should be autonomous and, through brushstrokes and colour, generate the pictorial object as a form of materialisation. The rooms in the exhibition follow a structured sequence. Focussing on the theme of movement, new works are placed in relationship to paintings from the last five years, to the point at which they are finally freed from the canvas and culminate in a moving play of shadow and film to become immaterial.
Klodin Erb operates in the field of tension between figuration and abstraction. She explores to what extent she can alienate motifs from classical art history, so that a subject is still recognisable or can be guessed at and at the same time acquires a new contemporary interpretation. In this way her work also questions and illuminates current social developments and challenges. However, the process of painting – the plumbing and the questioning of the image, its objectness and materialisation – always remains central. Erb's treatment of colour is always physical and temporal and therefore ultimately also performative. Fascinated for a long time by the moving image, Klodin Erb made her first film in 2016, in which the real painting and its filmed counterpart stimulate each other. Inspired by this new exploration of the medium of film, the solo show in Kunsthaus Pasquart examines and analyses Klodin Erb's painting via the theme of movement and metamorphosis. Works conceived especially for the exhibition are connected with ones from the last five years and placed in relationship to each other.
For the entirety of the twenty metre long vitrine in the corridor of the second floor Erb has created a landscape painting that develops over the various levels in the vitrine itself as well as in the form of painting directly on the glass. Various layers are superimposed and the painting achieves a depth and structure, spread as it were before the observer's eyes as an elusive panorama. This physical and mental visual walk spills over in to the row of five rooms on the second floor. The works presented here include the series Am Anfang war die Farbe (2015). The paintings conceived as «shaped canvases» show what images seen through a window or a frame, that is images of a view, could look like. While in the corridor the landscape unfolds and opens up, here it is limited to details. In very different ways Erb demands in both works a mobile form of seeing which also always corresponds to the painting process: in the concreteness of colour, in its status as object on the support and in the independent dynamic that Erb often allows the colour.
For the series produced especially for the exhibition, Alphabet der Heiligen (2017), Klodin Erb has elevated the building blocks of our writing to the painterly. Since time immemorial several saints and their attributes have been associated with the letters of the alphabet. By means of a corpus of images from magazines, books and newspapers that the artist has been collecting for a decade, she reinterprets the alphabet by replacing the old features with contemporary analogies. It is a work with spiritual leanings that takes up questions of identity and gender and enquires into the blurred boundaries between the sexes. The work Boring Childhood (2017) presents another kind of story of transformation. Ten equally sized paintings behind glass show a boy sitting forlornly on a bridge. One sees the same setting ten times, each with a different mood, accentuated and bordered by bars recalling film frames. It's not a story that is being told here, but the expression of a condition with all its facettes and changing sensitivities. Produced in ink through a complex process, the large-format Transformations (2016/17), are layered shadow paintings. Abstract and reduced to shades of blue, this series shows a new approach of Erb to painting. In contrast with her dynamic, gestural paintings, these are merely a hint of colour that can drift away at any moment and wraps around the canvas like a veil.
On entering the Salle Poma one is completely submerged in the world of shadows. In the centre hangs the work after which the exhibition is named, Wolfslaterne (2017/18), a lantern constructed especially for the monumental space. Rotating slowly on its own axis, it throws huge shadows on the walls. In an unfathomable and fascinating play of light the shadows escape from the colour and their support, become autonomous and are nonetheless for ever bound to and dependent on the material.
Curator
Felicity Lunn, director Kunsthaus Pasquart
Publication
The exhibition is accompanied by an artist's book, published by the Verlag für moderne Kunst with a text by Cathérine Hug (German / French / English).
---
Public tours
Thurs 8.3.2018, 6pm    (fr)    Valentine Yerly, historienne de l'art
Thurs 22.3.2018, 6pm   (dt)   Felicity Lunn, Direktorin Kunsthaus Pasquart
Artist's talk
Wed 21.2.2018, 6pm    (dt)   Klodin Erb in vconversation with Felicity Lunn
Dance show
Sun 4.2.2018, 2:30pm, 3:30pm, 4:30pm
Based on the baroque danse noble, Compagnie enSuite's choreography combines movement and a flow of energy with the union of music and dance..
---
Press conference: Friday, 26.1.2018, 10:30am
Opening: Saturday, 27.1.2018, 5pm
Children's preview: Saturday, 27.1.2018, 5-6:30pm
---
KLODIN ERB, Ausstellungsansichten / vues d'exposition / exhibition views Pasquart 2018, Fotos / photos: Julie Lovens
---
Mit freundlicher Unterstützung des Legats von Mme M. Mottier-Lovis. /
Avec le soutien aimable du legs de Mme M. Mottier-Lovis. /
With the kind support of the legacy of Mme M. Mottier-Lovis.
---
Dance performance to Klodin Erb's Wolfslaterne (2018)
Salle Poma, 4.2.2018
Based on the baroque danse noble, Compagnie enSuite's choreography combines movement and a flow of energy with the union of music and dance.
Film made by Alan Sahin