Diese Veranstaltung hat bereits stattgefunden.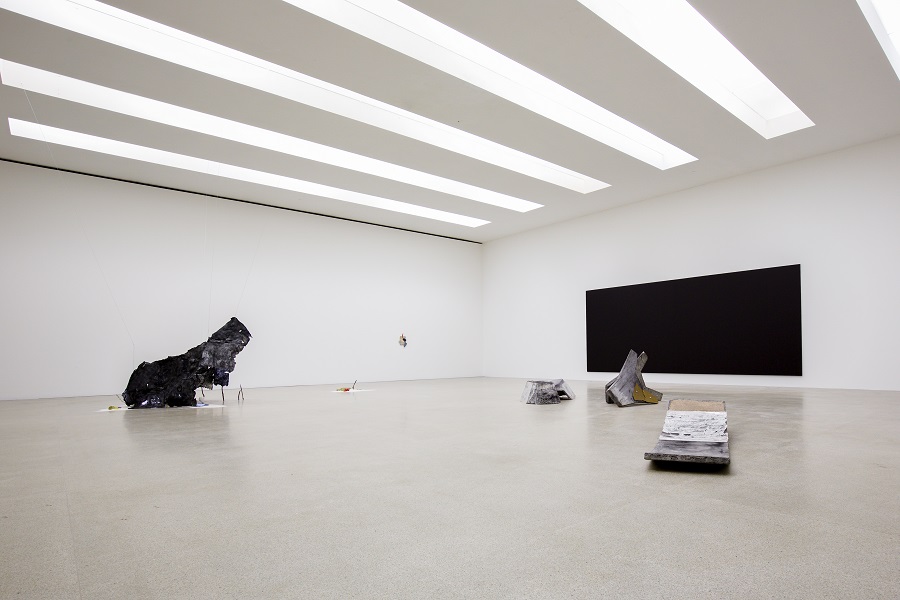 CANTONALE BERNE JURA 2020
CANTONALE BERNE JURA
16.12.-19.12.2020 / 23.1.-21.3.2021
Opening day: Sat 19.12.2020, 11am – 6pm
Organised in cooperation with the Kunstverein Biel, the inter-cantonal exhibition draws attention to regional art activity. The selection of works, drawn up by a professional jury, surprises through its diversity and originality, thereby creating space for new discoveries. Artists have the possibility to present their works to a large audience and visitors are given the chance to see these beyond canton borders. Works by the prizewinners of the Prix Kunstverein and the Prix Anderfuhren will also be presented at the Cantonale Berne Jura.
Artists:
A TEMPORARY ALLIANCE, Bastien Aubry, Sylvie Aubry, Stéphanie Baechler, Linus Baumeler, Cécile Baumgartner Vizkelety, Karin Borer, Nicolle Bussien, Livio Casanova, Lara Dâmaso, Remy Erismann, Edith Flückiger, Gabriel Flückiger, Leolie Greet, Floyd Grimm, Laurent Güdel, Simone Haug, Géraldine Honauer, Jeanne Jacob, Lea Krebs, Vanessa Kunz, Daniel Kurth, Raphael Loosli & Arnaud Wohlhauser, LULU&WHISKEY, Lea Luzifer, Monod_Marcus, Robin Mettler, Alizé Rose-May Monod, Karen Amanda Moser, Susanne Muller, Nico Müller, Ernestyna Orlowska, Nina Rieben, Marie-Françoise Robert, Alan Sahin, Lorenzo Salafia, Julia Steiner, Jérôme Stünzi, Vera Trachsel, Romy Troxler, Lara Wedekind
Prix Kunstverein: Jeanne Jacob
Prix Anderfuhren: Jérôme Stünzi
Jury
Stefanie Gschwend, Wissenschaftliche Mitarbeiterin Kunsthaus Pasquart / collaboratrice scientifique Centre d'art Pasquart
Andrea Heller, Künstlerin / artiste
Nicolas Raufaste, CAN Centre d'art Neuchâtel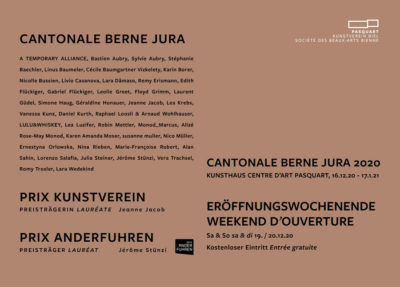 Exhibition view, Cantonale Berne Jura, Salle Poma Kunsthaus Centre d'art Pasquart 2020, Nina Rieben, LULU&WHISKEY, Remy Erismann; photo: Lia Wagner