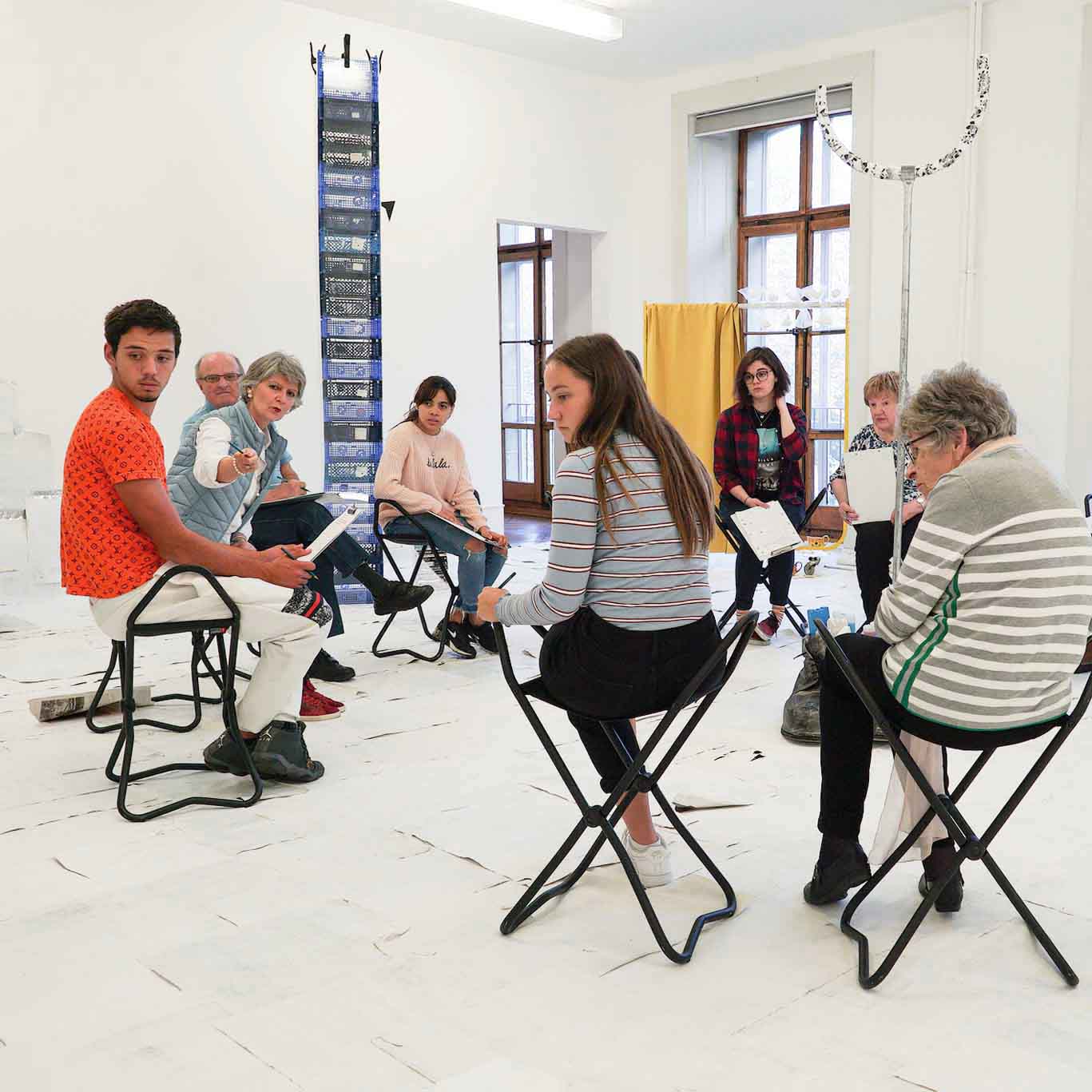 Commenting on art
The activity « Commenting on art » lends more weight to the visitor's voice than a few lines in the guest book. After several visits the invited group expresses reactions, questions and ideas surrounding an exhibit through words, images or sounds , to share with the rest of the public. These different perspectives enrich museum visits for everyone.
Currently
In 2019 «Commenting on art» invited hearing impaired and deaf people to an exchange on the exhibition MELANIE MANCHOT – Open Stage. Back Stage. The result of the project will be displayed from may 19th 2019 as an enriching addition to the exhibition.
As a reaction to the artworks, short videoclips of sign poetry were created in the project «Commenting on art»: poetic gestures that cannot be translated litterally. Through this the hearing impaired and deaf participants share their point of view with you. The videos can be viewed on your smartphone or tablet (can be borrowed at the reception) directly in front of the artworks.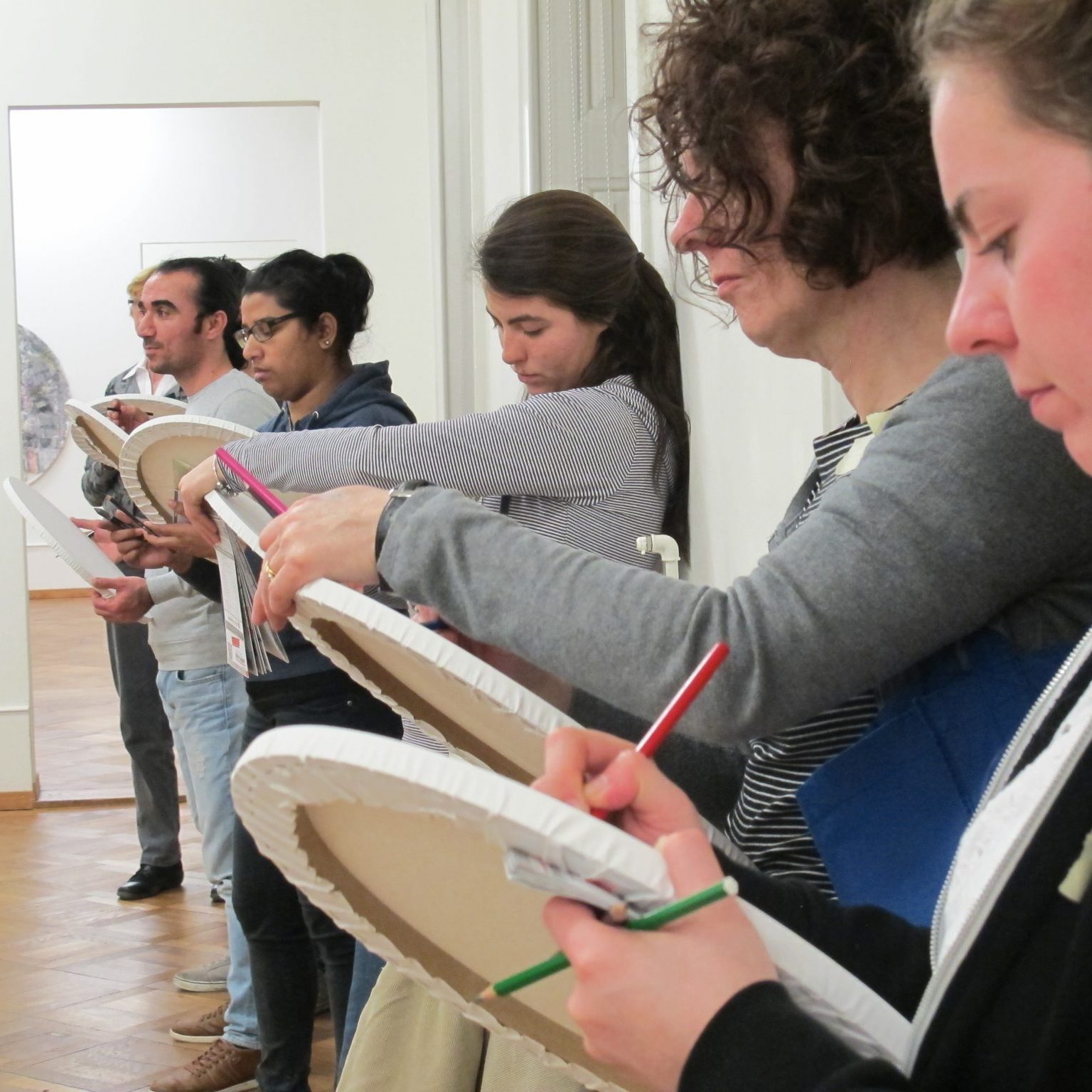 Making art
« Making art » offers individuals, but also groups, the opportunity to experience an exhibit from a practical point of view, by experimenting with and learning about an artistic technique. Visiting an exhibit will be enhanced by a practical activity, involving the senses. Thus, different facets of the artistic experience are introduced and the visit becomes a memorable event, also for those who might feel hesitant about engaging with contemporary art.
Making art – for all
A workshop in german and french for adults takes place within the exhibition Andrea Heller. Techniques: watercolour and ink (no previous experience required).
25.- CHF per person (0.- CHF in case of hardship or with KulturLegi), incl. material, max. 20 participants
Inscription deadline: 24 Aug 2019
Making art – for you
The offer to book the course "Making art" for your group on a date of your choice exists from 12 Aug to 08 Sept 2019; possible from Monday to Sunday equally outside the regular opening hours.
CHF 250.- incl. material, max. 20 participants per group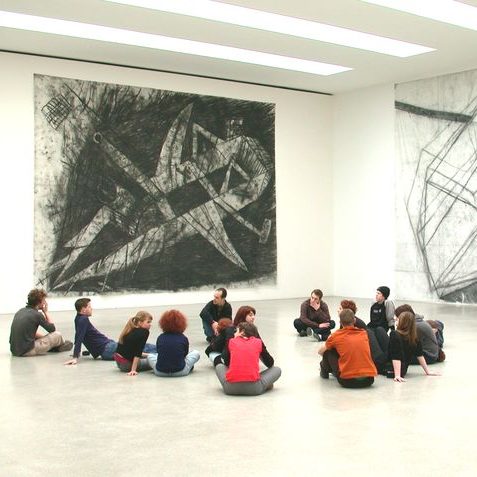 On-going programme
Groups of every kind can at any time book tours and workshops that explore the Art Centre. There is a choice of different workshops permanently available, while we are happy to respond to your individual requests and needs, depending on the exhibition.
T+ 41 32 322 24 64
info@kulturvermittlung-biel.ch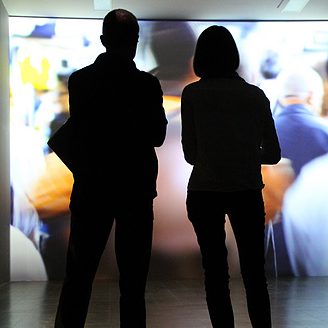 Public tours
Accompanied by an art historian or the Art Centre Director personally, you are given in an hour-long tour an overview of the current exhibitions. Supported by background information our observation of the work opens new ways of looking at individual pieces and enriches your experience of art.
Artist talks
A unique opportunity to meet the exhibiting artists personally and, through listening to and talking with them, to see their art in a new light.
Cultural events
Readings, concerts, dance performances and other cultural events enrich the exhibitions programme of visual art in the Art Centre Pasquart.