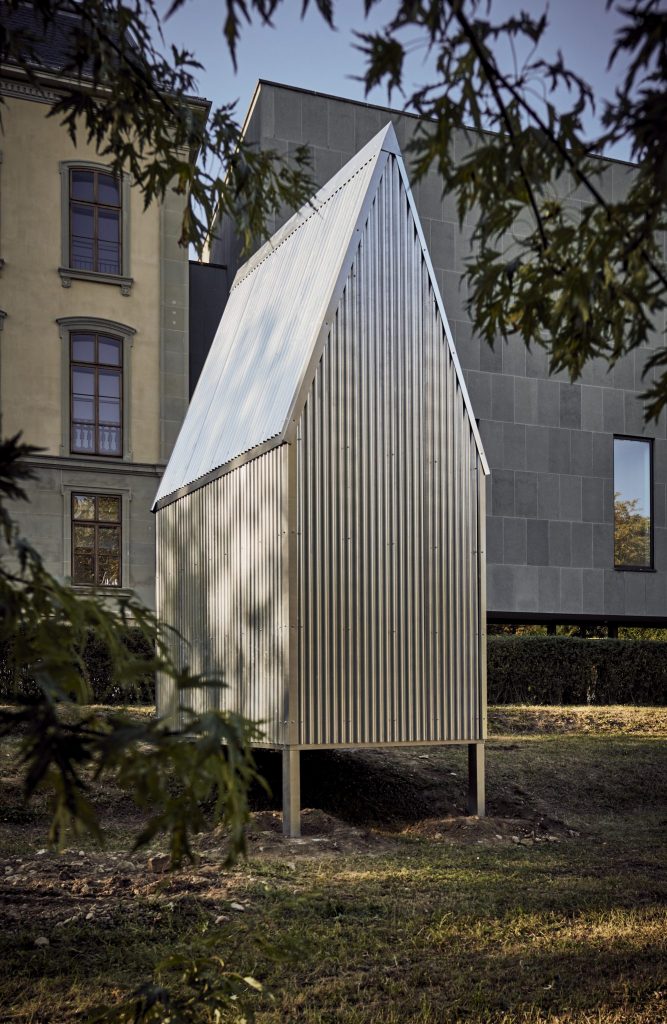 Haus am Gern, KlHaus, 2018, Foto / photo: Rudolf Steiner
KlHaus
1.12.2018-22.2.2022
A project by Haus am Gern
A small house stands in the garden in front of Kunsthaus Pasquart, the «KlHaus». For a period of three years we will collect and assemble what is happening in another place 800 kilometres to the north-east, or rather, everything that this other place generates in terms of thought, image and sound. This other place is situated in the gazebo of an allotment garden in Leipzig. It was constructed in 2005 by Haus am Gern in the form of a white cube in the gazebo of allotment 266 of the association of small gardens in Anger-Crottendorf. In accordance with the EN ISO 14644 contamination control standard, it was then cleaned by the firm Pro_Con, specialists in the cleaning of cleanrooms, then sealed and declared by Haus am Gern to be a «HISTORY FREE SPACE». It is the only room of its kind on this planet.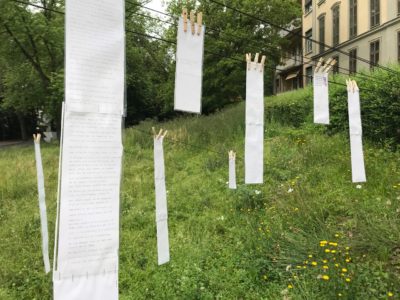 Currently @ KlHaus:
17.6.- 23.6.2019
Le temps d'une semaine, l'écrivain Antoine Rubin a pris ses quartiers dans la KlHaus. Apportant le strict minimum, il développe une réflexion autour de la vie dehors avec un toit au-dessus de la tête. Le temps passé sur place se traduit en journal qu'il augmente au fur et à mesure des jours avant de le restituer à la ville.
Die Texte werden danach bis Mitte Juli im KlHaus zur Lektüre aufliegen.
PREKARIA – a video-opera by Studio Prekär
Marie-Luise Lange & Jeroen Singer
3-canal-video installation, ca. 3h
Opening 10.5.2019, 6pm
Running time until 16 June 2019, Finissage at 5pm
How does an idea of the past manifest itself in the present? The video installation PREKARIA examines the dichotomy and speechlessness that accompany the transformation of a social system. Distorted images, fragments and shreds of conversations, gestures and emotional impressions interweave with abstract choral and improvised opera singing. The documentary material is interpreted in various ways and subjected to an effective transformation. The focus of the work is not the search for truth, but the attempt to make an experience tangible. This does not only mean the experience of others, but also the difficulty of rearranging the distorted image of history in oneself.
Catalogue with DVD by Edition Haus am Gern
supported by videocompany.ch
Currently @ KlHaus:
PRECISION AND RECALL
Hartmut Abendschein
Suchbewegung in der Ordnung der Dinge
16.3.-13.4.2019, Finissage 13.4.2019, 17:00
14.4.2019, 17:00 @ KlHaus:
DER GESCHICHTSFREIE RAUM UND DER APFELBAUM
Eine botanisch architektonische Fabel by Helmut Dick, vorgetragen von Helmut Dick und Vera Trachsel.
Im gesunden Hier und Jetzt haben Apfelbäume möglicherweise, und Räume ganz sicher kein Bewusstsein. In einem der unzähligen, nirwanischen Subräume allerdings – die zueinanderkommend zu einer Art Brummton verschmelzen – ist nicht nur jede erdenkliche und noch nicht gedachte Konstellation vorstellbar, sondern geradezu logisch: Bäume und Räume wissen wer sie sind und sprechen … sogar miteinander.
Der Geschichtsfreie Raum und der Apfelbaum @ Leipzig, 30.5.2016